I really wanted rainboots made out of recycled rubber tires. I had visions of stomping around in rugged, tread-marked black boots that made a strong statement: "I am recycled." but were still cute (P.S. Hey, internet? Make these for me.)

I couldn't find them, and neither could any of the "green" bloggers I read. I tried Googleing around for a while, and came up with nothing. So I bought cheap ones from Target, but some sort of manufacturing glitch came up, and I had to cancel the order after weeks of waiting.

The Target ones were made from PVC, which is pretty bad stuff for the planet, but they were also only $19.99. I figured I'd wear them for a few years and then donate them to charity, so at least they'd do SOME good.

Since I was back at square one as of tonight, I tried again to find eco-friendly boots. Still no luck (and I spent two hours searching, too.) I resigned myself to buying virgin-material boots, but this time, wiser, I found and bought some rainboots made from real rubber, not PVC. They were more expensive, but my justification is that they'll probably last longer, and rubber is a much more earth-friendly material.

They were originally $138 at orlakiely.com (love!), but I snagged them at bluefly.com for $82. That's still high for rainboots, but at least I like them and will have them for several years.

I'm slowly trying to find the line between wise frugality and responsible splurging, and the line between being eco-friendly vs. not loosing my marbles with hours of searching for the perfect "green" product that, apparently, doesn't exist. Make sense? Kinda?

Anyway, these are the boots. They're available in black/charcoal, olive/pale green and pomegranate/light orange.

Anyone who knows anything about me knows what color combo I went for.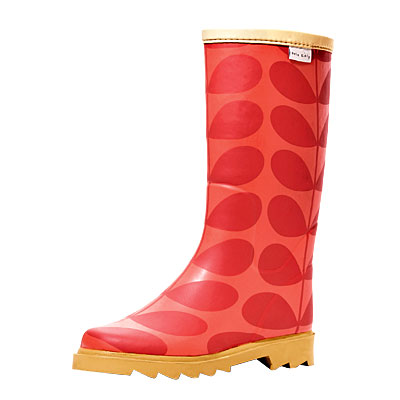 Bring on the rain!